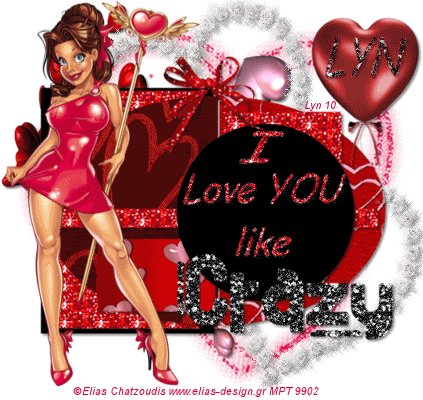 LOVE YOU LIKE CRAZY
This tutorial was written by me and any resemblance to any other tutorial is purely coincidental.
It would be nice if you let me know you have tried my tutorials I love to see what you do with them or at least acknowledge that you have done it I like to get some feedback on what you think send me a copy and I will add them to my slide show.
Supplies needed:
PSP (I used PSP 9) but should work on any
Animation Shop
Glitter Tiles by
Arty Pharty
Filters used:
Inbuilt noise filter in PSP
Xenofex 2 - Constellation
Tube of choice I am using the fantastic artwork of Elias Chatzoudis if you wish to use his work then you must purchase a license from
http://www.mypsptubes.com/
The Template Missy_Tagtemplate 268 I am using came from Missy at:
http://divineintentionz.blogspot.com/
The Scrap kit I used is by Lacarolita it's called Oh My Heart and you can get it :
http://lacarolitasdesignz.blogspot.com/
The mask I used is WSL_Mask207 thank you again Chelle and you can get it at:
http://weescotslasscreations.blogspot.com/
Okay lets get started
Open the Template and click on the background layer then Image – Canvas size and change to 700 x 700 and Flood fill white now delete the copyright layer.
Make the glittered square the active layer and *add a new Raster layer and Flood fill this layer with a glitter of your choice to match your tube I used a red glitter now delete the original* do this * with Thin Rectangle 1 & 2 and with Rectangle 2 and using a different colour of glitter (I chose Black) do the same with the wordart (Crazy)next click on Oval half 1 and * Selections – Select all – Selections – Float, Selections Defloat and copy and paste a paper of your choice I used Paper 3 Selections – invert and hit the delete button on your keyboard and delete the original in your layer palette* do the same* with Oval half 2 and also with Rectangle 1
Now click on and make active your background layer add a new raster layer and flood fill it with a colour from your tube then Layers – Load/Save Mask – Load Mask from Disk and locate WSL_Mask207 and okay make the group layer active in your layer palette and right click and merge group (stretch the mask as necessary using the Raster Deform tool so it shows below the frame see mine for reference) now copy and paste Hearts 1 and Hearts 2 just above the Mask layer move these around mirror and flip get them where you think looks best now copy and paste the (glitter hearts) Hearts 3 resizing and name this layer GLITTERHEARTs now copy and paste Bow 2 (ribbon) resizing and place it where you think it looks best or see mine for reference I then copy and pasted and resized the Heartballoon1 and placed it to the right of the template.
Now add your own words I used I LOVE YOU LIKE making it fit into the black circle and I used a glitter tile with a contrasting coloured glitter with a stroke of 1 I then reversed the colour of the Glitters for my name on the top of the heartballoon.
Now add your Tube - to the left (resizing)
Image – Resize – All Layers checked 500 x 500 Smart size
Add the artists copyright and your watermark
Drop shadow each layer with settings 3, 3, 50, 5 colour black
If you don't wish to animate then save your Tag now as a Jpeg if you wish to animate then carry on.
Animation
Click on the top glitter layer which should be your name and the wordart should be all underneath your name in your layer palette and Merge down till you have all the wordart on the same layer name this layer WORDART and Adjust – Add/Remove Noise – Add Noise click on Guassian and set the percentage to 30 and click okay then click on the GLITTERHEARTS and Effects – Xenofex 2 – Constellation and use these settings 1.98, 50, 50, 25,50, 75 make sure Keep original image is checked then okay now Copy Merged and take it to Animation Shop then Edit – Paste as a new animation, back in PSP click undo three times then Add/Remove Noise – Add noise and change the percentage to 35 and click okay and on the GLITTERHEARTS use the same settings in Xenofex 2 but hit the random button Copy Merged and take it to AS – Edit – paste after the current frame and back again to PSP click undo three times and again Add/Remove Noise – Add Noise and change the percentage to 40 click okay making the GLITTERHEARTS layer active and again in Xenofex 2 hit the random button Copy Merged and take it to AS then Edit – paste after the current frame then Edit – Select all – Animation – Animation Properties – make sure opaque is checked and change the colour to white and click okay.
View your Tag and if happy save as a Gif.
Thank you for trying my tutorial.
Lyn