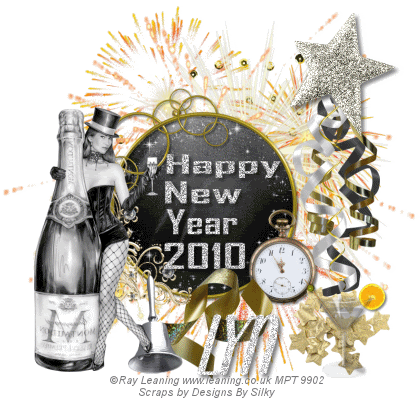 This tutorial was written by me and any resemblance to any other tutorial is purely coincidental.
It would be nice if you let me know you have tried my tutorials I love to see what you do with them, send me a copy and I will add them to my slide show.
Supplies needed:
PSP (I used PSP 9) but should work on any
Animation Shop
Filters used: DSB Flux
Tube of choice I am using the beautiful artwork of Ray Leaning if you wish to use his artwork then you need to purchase a license from:
http://www.mypsptubes.com/
The Scrap kit I used is by Silky and it's called Bling in The New Year (FTU) and you can get it from:
http://designsbysilky.blogspot.com/
when downloading Silky's kit you have to download all 3 parts
Okay lets get started
Open a new image 700 x 700 we can resize later flood fill white
Copy & Paste the Frame which is embellishment 03 – resize it by 50% twice now with your magic wand click inside the frame Selections – Modify and Expand by 4 copy and paste a paper of choice I used paper 12 into selection – Select none and drop the paper below the frame and drop shadow the frame.
Now click on and make active your background layer and Copy and Paste Elements (resizing as necessary) of your choice I used Firework 03, 02, 04, 38 move them around till you are happy with the way it looks
Make your top layer active and add the other Elements (resizing as necessary), 05-glass, 25-silver bell, 33 – corner decal = mirrored, 83-group of gold stars, ribbons-72, 74, 75, 86, 65, and add the silver star 78 to the top of all the ribbons – see mine for reference.
Copy and paste your tube if using the same tube as me I mirrored the tube
Add a drop shadow of your choice to all layers I use 3, 3, 50, 5, black
I then used my selection tool on the word art and copied and pasted each word and resized it to fit in the frame
Image – Resize – All Layers checked 500 x 500 Smart size
Add the artists copyright and your watermark then add your name I used the Font Blue Melody on pattern using a glitter tile the same colour as the word art click on the top word art layer in your layer palette and merge down and again do this till you have all the word art and your name and the big silver star on the same layer.
Animation
Click on you're the word art layer and Effects – Plugins – DSB Flux – Bright Noise and set the intensity to 40 and with Mix checked click on mix once the Copy-merged and take it to Animation Shop and Edit – Paste as a new animation back to PSP and click undo once then Effects – Plugins – DSB Flux – Bright Noise and click on Mix twice and Copy – Merged and over to AS and Edit – Paste after the current frame do this a third time clicking on mix three times and take it to AS and Edit – Paste after current frame you now have 3 frames.
View your Tag and if happy save as a Gif.
Thank you for trying my tutorial.
Lyn