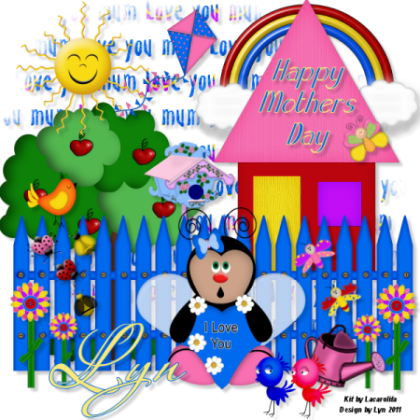 HAPPY MOTHERS DAY
This tutorial was written by me, and any resemblance to any other tutorial is purely coincidental
Supplies needed:
PSP (I used PSP 9)
The Scrap kit I used is from Lacarolita's Designz" …. thank you Lacarolita and is called Spring is Here (FTU) and you can get it
HERE
The mask I used is from weescotslass Chelle WSL_Mask 346 many thanks Chelle and you can get it
HERE
Open a new image 700 x 700 (we can resize later) flood fill white
This is a very quick and easy tutorial and I hope you enjoy it.
Copy and paste a paper of choice I used Paper 4 and apply WSL_Mask 346 in layer palette right click and merge group resize, copy and paste fence 2 from the scrapkit placing it to the left then resize by 50% and duplicate and mirror make the fence join in the middle and drop shadow with settings 5, 5, 20, 5, colour #000000
Now copy and paste whatever elements you want resizing and drop shadow using the same settings. I used Behind the fence : house 1, tree1, birdhouse1, rainbow 1, sun 1, kite 2 and butterfly 4 in front of the fence I used : Flower 1 which I duplicated 3 times and resized one 20% smaller than the other, wateringpot 1, bee 1,2,3, bird 1, chicken 1, 2, butterfly 1, 2, 3 and ladybug 1 & 2.
I then typed Happy Mothers Day using my text tool on the roof of house using font Blue Melody size 28 with a stroke of 1 and I chose 2 colours from the Tag.
Then Layers, merge, merge visible.
You can resize now I use 500 x 500
Add your name to the Tag the font I used was Aquarelle and add the scrapkit's copyright and your own design mark and your done
Thank you for trying my tutorial.
Lyn